This year-round destination tucked away between Utah and Idaho is the perfect lake getaway with all of the waterfront amenities and none of the crowds. Each season offers something new to enjoy, but there is nothing quite like the fall here at Bear Lake.
With temperatures still in the 60s, you can enjoy an afternoon on the water as you take in the fall foliage and admire the breathtaking scenery of the Bear Lake Valley. Then go for a scenic hike or walk around town with a pumpkin spice latte in hand. What's not to love? It's time to book your incredible vacation home for fall in Bear Lake!
Getting to Bear Lake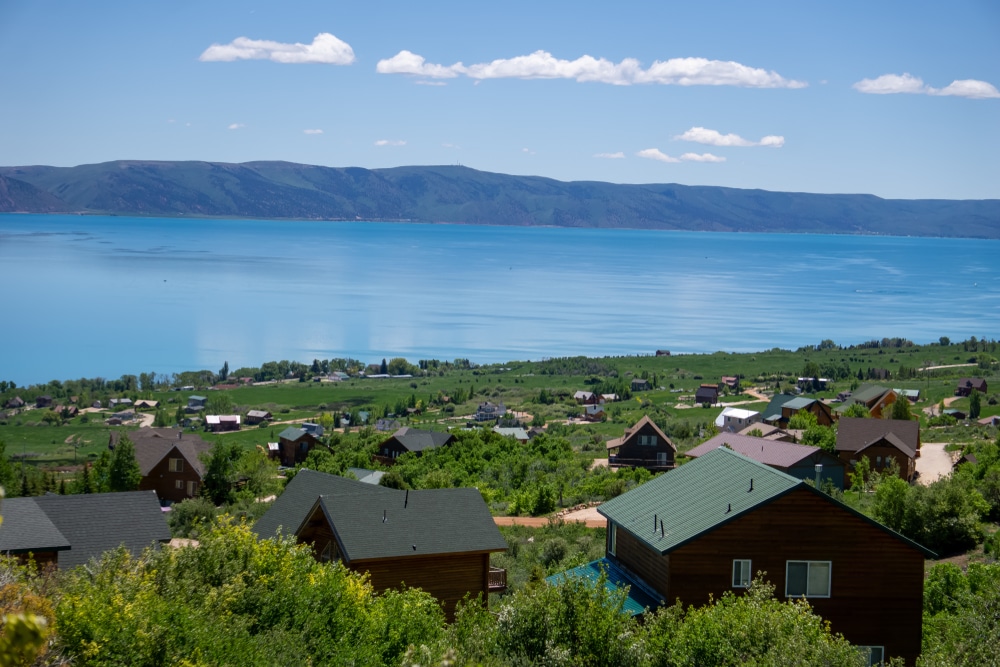 Photo Credit: Chase-Karli Willden
With Salt Lake City International Airport (SLC) just three hours away, a vacation to Bear Lake is close enough to a major airport to maximize your time but just far enough away to feel remote.
Alternatively, you can take the two-hour drive from the smaller Pocatello Regional Airport on the Idaho side of Bear Lake.
Things to Do in Bear Lake in the Fall
Get out on the Water
Photo Credit: Chatham172
Bear Lake has more than 160 square miles of pristine, crystal-clear water waiting to be explored. Fall temperatures in the 60s still make for pleasant fishing days and exploring the shoreline. Enjoy spectacular views of Bear Lake Valley during peak foliage, and admire the bright turquoise waters of the lake as you go. You may even get a glimpse of the native Bonneville Cisco fish!
Seven boat ramps are located around the lake for a convenient launching experience regardless of your home base. Rent a boat at one of the many boat rental shops, or try something new like paddleboarding, kayaking, or jet skiing. We recommend Bear Lake Rentals for a variety of watercraft rental options!
Explore the Trails
While there is no denying that the lake is the star of the show here at Bear Lake, the rolling Bear River Mountains and nearby Logan Canyon are some key players. These features make an impressive backdrop for Bear Lake and offer some incredible outdoor adventures, especially in the fall. Dotted with aspen trees and scrub oak, hiking trails like the 1.5-mile Limber Pine Trail or the more challenging 7-mile Laketown Canyon Trail will be bursting with color. You can also drive a bit further for an easy stroll down the Bloomington Lake Trail on the Idaho side.
Short and Easy: Limber Pine Nature Trail
Length: 1.3 miles roundtrip.
Elevation Gain: 177 feet.
Trailhead: US-89, Garden, UT
This family-friendly hike is a great option for people who want to spend some time in nature but don't want to work too hard for it. From the parking lot, you will head right into Logan Canyon, where you can enjoy educational signs about the ecosystem, marvel at the towering trees, and take in the breathtaking views of Bear Lake below.
Moderate Adventure: Laketown Canyon
Length: 7 miles roundtrip.
Elevation Gain: 800 feet.
Trailhead: Rodeo Arena in Laketown, UT
Avid hikers will love this trail, with moderate elevation gain and multiple stream crossings guiding you up to one of the densest aspen groves in Bear Lake Valley. Once you get here, you will be rewarded with fall colors that will have you feeling like you are up in the mountains of Colorado.
The Polar Plunge Option: Bloomington Lake
Length: 1.6 miles roundtrip.
Elevation Gain: 187 feet.
Trailhead: Bloomington Lake Trail Head, Forest Rd 816, Preston, ID
You have to work for this hike, but not in the way you would think. Once you get to the trailhead, a short, relatively easy hike will take you to the crystal clear, turquoise shores of Bloomington Lake. But to get to the trailhead, you will need to drive about an hour from Bear Lake and traverse a section of washboard dirt road. Reward yourself at the end with a polar plunge dip in the picturesque waters!
Admire Fall Foliage on a Horseback Ride
Photo Credit: Alex Vog
Imagine all the breathtaking fall colors you'll see on any scenic hiking trails throughout Bear Lake Valley, and then imagine it without having to do any of the walking! Take your fall foliage experience to the next level by booking a tour with one of these horseback riding outfitters.
Logan Canyon Horseback Riding
Look for wildlife as you ride through bright yellow aspen groves and cross babbling brooks throughout Logan Canyon. It doesn't get more serene than that!
Pony Express Horseback Rides
Cost: $75 per person OR $115 a person for groups of 2 or less.
Address: 2703 US-89, Fish Haven, ID
Website: bearlakehorsebackrides.com
Head into the Cache National Forest for an hour's ride through some of the best scenery in the Bear Lake area. You'll get to cross bridges, admire the aspens, and get a great view of Bear Lake itself. Other fun options include a Cowboy Dinner and a Beach Ride!
Go for a Refreshing Bike Ride
Photo Credit: Monkey Business Images
Once you have made it to Bear Lake, you aren't going to want to take your eyes off of the water. And the good news is that you won't have to! With small-town streets peppered along the lake's edge and a variety of ways to get around, Bear Lake is as bike accessible as it gets.
The Bear Lake Cruise is a 51-mile bike path that loops around Bear Lake. Grab a bike rental, take in the incredible views, and stop at charming towns like Garden City and Fish Haven.
In addition the area is known to host some of the best mountain biking around. Imagine riding through the magnificent, towering trees of the Beaver Mountain Ski Area before the first snow hits. Whether you're a beginner or an advanced biker, the trails cut through beautiful terrain and offer stunning views of Bear Lake.
For a more challenging adventure, you can explore the single tracks with plenty of obstacles or take on thrilling downhill descents like the ones offered on Stump Hollow Trai, which offers a fun ride down.
What to Pack for Fall in Bear Lake
When planning for a fall season trip, your mind probably rushes to thick-knitted cardigans, heavy flannels, and a possible beanie or two. But you should also consider packing a few T-shirts and maybe even a pair of shorts.
The fall weather in Bear Lake is crisp and sunny, with October temperature highs ranging from 55 to 65 degrees. Colder evenings are a great time to break out the fall sweaters, and infrequent rain showers minimize the chance of crashing your outdoor plans. So what should you pack?
A bit of everything! The most important thing to remember is layers, layers, layers.
Enjoy a Fall Get Away to Bear Lake
With plenty of outdoor adventures to keep you busy throughout your visit, Bear Lake is a great option for your next fall getaway. Enjoy the fall colors and breathe in the mountain air as you boat around the lake, hike amongst the mountains, and ride into the sunset. Finish each day at one of Bear Lake's charming vacation homes, all conveniently located in the small towns that call the lake home.